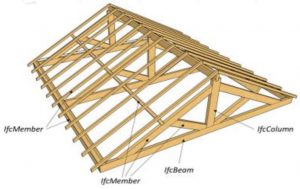 The peculiarity of timber construction companies lies first of all in the fact that they have been using 3D software for a long time (sometimes about twenty years for some of them…). The aim of their software was, in addition to a better understanding of the wooden structures, the possibility of using the digital files for manufacturing via digital wood machines.
The use of these digitally controlled machines is now largely used in carpentry, timber frame manufacturers and companies. These companies have mastered their use, and we regularly see 3D representations of the structure in the 2D plans of wood design offices or wood construction companies.
The aim of this paper is to show how "easy" it could be, for these companies, to transfer their trade model into BIM models, and what is the interest of it. The conclusions of this paper show that the best-added value would be for the single-family home builder. In many cases, they are also project managers for their clients and have the necessity to coordinate all other stakeholders. The use of a BIM model, made from the 3D trade model would greatly improve the final quality of construction, thanks to a cross-level and cross trade BIM process.
Read the full paper (in French): click HERE