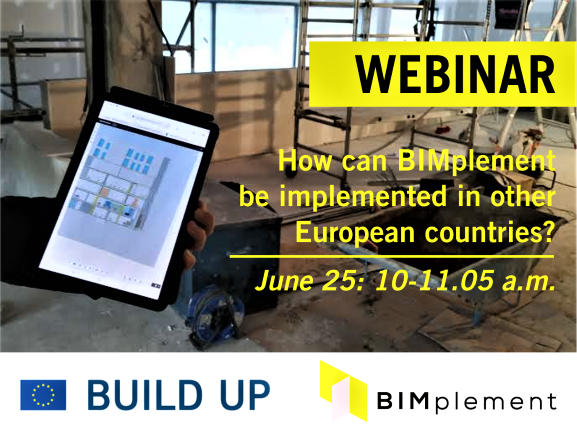 This webinar will take place on the 25th June, 10.00 AM to 11.05 AM CEST.
Methodology and tools for BIM and nZEB implementation in the construction site.
In the last three years, BIMplement partners have worked together to implement hands-on BIM-enhanced learning tools about nearly Zero Energy Buildings (nZEB) targeting professionals involved in the construction chain. The BIMplement method was tested in several experimental sites and field labs and constantly improved through feedback loops. The results of this innovative approach to BIM and nZEB skills in construction sites will be discussed in this webinar.
The webinar will present three BIMplement tools and methodologies developed to promote learning through BIM in the working place, such as the construction sites on the two areas of building airtightness and ventilation. Join us and learn more about the BIMplement toolkit, the catalogue of constructive elements and the mobile training container. Ask questions to BIMplement specialist about the methodology and tools. Get inspired to implement it in your workplace!
Agenda:
Introduction (Amandine De Coster, EASME)
Introduction of the self-service concept (Mantas Jonauskis, RIVC, Lithuania)
Self-service methods and tools – In depth presentation
Service concept part: Catalogue of constructive elements (Isaac Villanova, María José Esparza, IVE, Spain)
BIMplement toolkit (Myriam Olivier, Astus, France)
BIMplement FIT 2.0 container mobile training (Narjisse Ben Moussa, AVE, France)
Q&A and closure. (Amandine De Coster, EASME)