IN A NUTSHELL
BIMplement was a 30 month-long EU funded project involving 9 partners from 5 different countries which started in September 2017. The overall objective was to achieve an improved quality for nearly Zero Energy Buildings (nZEB) construction and renovation by using BIM as a universal information carrier and enabler of the learning process within projects and between projects.
METHODOLOGY
BIMplement developed a BIM-enhanced Qualification Framework that described the competences, skills and knowledge needed in order to connect available knowledge to: the BIM-model, the building process and the actors involved. The results were applied in 49 experimental sites in which training interventions were tested in practice leading to upskilling 710 white collars and 752 blue collars.
CONSORTIUM
BIMplement consortium was composed of partners from France, the Netherlands, Lithuania, Spain and Poland, with experience in previous BUS projects and establishing the national BUS roadmaps. Every partner represented the building and/or installation sector and organisations, responsible for developing and organising large scale trainings and qualifications schemes.
Towards a learning building sector by setting up a large-scale and flexible qualification methodology integrating technical, cross-craft and BIM related skills and competence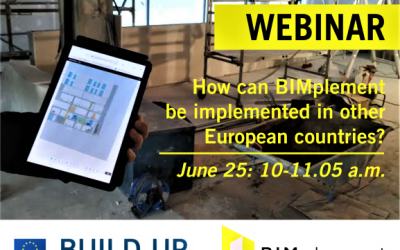 This webinar will take place on the 25th June, 10.00 AM to 11.05 AM CEST. Methodology and tools for BIM and nZEB implementation in the construction site. In the last three years, BIMplement partners have worked together to implement hands-on BIM-enhanced learning...
read more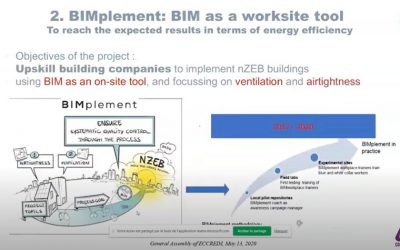 On 13 May, the BIMplement project was presented to ECCREDI members by Myriam Olivier, from BIMplement partner ASTUS, France. During the presentation, Myriam explored the advantages of implementing BIM in the construction site by using the BIMplement methodology and...
read more
No Events on The List at This Time
The controller is the Valencian Institute of Building and the purpose of the processing is to mail to you electronic communications. You may object to the processing and other rights pursuant we explain in our Privacy Notice.