One of the objectives of BIMplement's project is to create a new generation of professionals and craftsmen, qualified to deliver high quality nZEB-projects by using technical, cross-trade and BIM skills and competences.
To this end, training sessions will be carried out in 50 construction sites located in France, Spain, the Netherlands, Poland and Lithuania. By the end of the project, 1 000 craftsmen (blue-collar workers) and 200 professionals (white-collar workers) will be trained in BIM-enhanced quality control.
The case of France: selected territories and agreed construction sites
France acts as a learning and replication case for the other countries, executing about 30 – 35 construction and renovation projects by 2020. These numbers in France are feasible as training on quality control is already planned and the training infrastructure is in place. In France, 8 territories were selected to carry out this great challenge: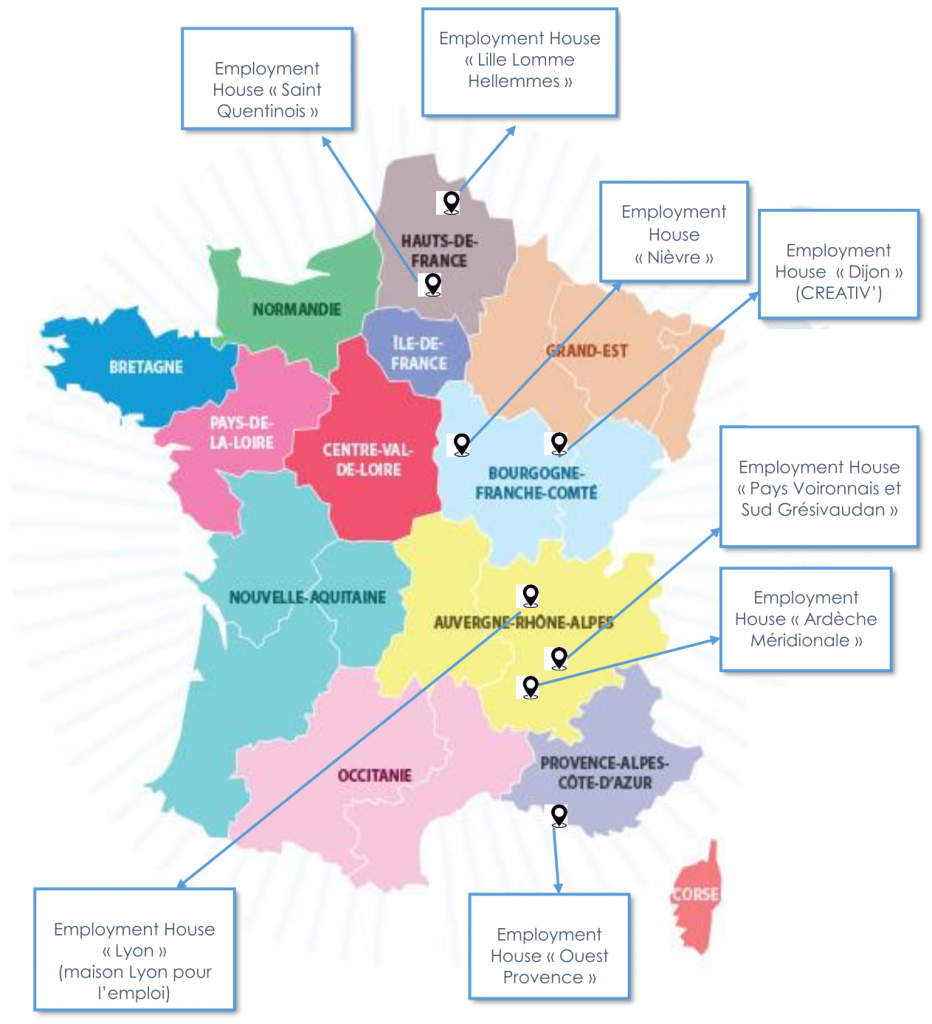 In each territory there is an organization which has the willingness and the competencies to lead the process and one of its employees has been designated and trained as "BIMplement coach". He/she is in charge of implementing and coordinating the BIMplement project in its territory by mobilising stakeholders and finding and documenting potential field labs and experimental sites. More information about the French coaches (click here).
France currently has launched 18 construction sites through which it will train 600 blue-collar workers and 120 white-collar workers of construction companies with fewer than 50 employees:
Construction of a swimming pool in Dijon: + info
Renovation of a highschool in Besançon
Construction of a highschool in Besançon
Construction of 40 bio-sourced houses
Renovation of the Cité Muséale Château Chinon in Nièvre
Renovation of 127 dwellings in Voreppe Bourg-vieux
Two buildings in Voreppe Rives
Renovation of the Sainte-Marie hospital in Privas in Ardèche Méridionale
Construction of 2 office buildings in Saint-Nicolas-les-Arras: + info
Construction of a digital house in Lomme
Construction of a structure for children in Istres
Construction of Technical Services of the Port Saint Louis du Rhône
In some of these locations the training has already begun as for example in Dijon, Voreppe and Saint-Nicolas-les-Arras, and in others it will start soon.

Awareness campaigns as a key point in the process
The priority of the Employment Houses (Maison de l'Emploi) is to increase public awareness and rallies as many stakeholders around the project as possible.
Bilateral and collective actions (with partners such as trainings centers, Architects' associations, cluster, representatives of cities, social housing…) mobilize a lot of energy from the BIMplement coaches project managers before concluding a partnership. A strong political support of the project is also essential. This upstream work is most time consuming, but also represents an investment for the implementation of BIMplement and its future developments.
"That is approximately over 15 meetings with different stakeholders from around October 2017 until now. A significant part of the job that requires for example preparation and writing minutes of meetings. This step aims to develop partnership in order to ensure that all relevant stakeholders adhere to the results of the project and to legitimate it (…) Moreover, it is also really important to master the subject and participate to events that gathers together professionals. That represents again around 15 days of work since the beginning. In total, awareness campaign, strategic monitoring, and trainings represent 40% of my job on this project" (Carole Boursbaquet, Maison de l'Emploi of Dijon).
But when people join the project, it is like a snowball effect
In theory, BIMplement was supposed to train both white collars and blue collars but the reality is different. For most actors, BIM subject is pretty new and they need time and a pedagogical approach before any attempt to implement it. Quickly, the BIMplement coaches realized that some meetings with the higher level of decision-maker have to be organized.
The pilot field lab in Dijon with the construction of the Carrousel swimming pool is the right example of a snowball effect. The Carrousel in Dijon led directly to other projects thanks to new contacts such as the City of Dijon and the Franche-Comté Region.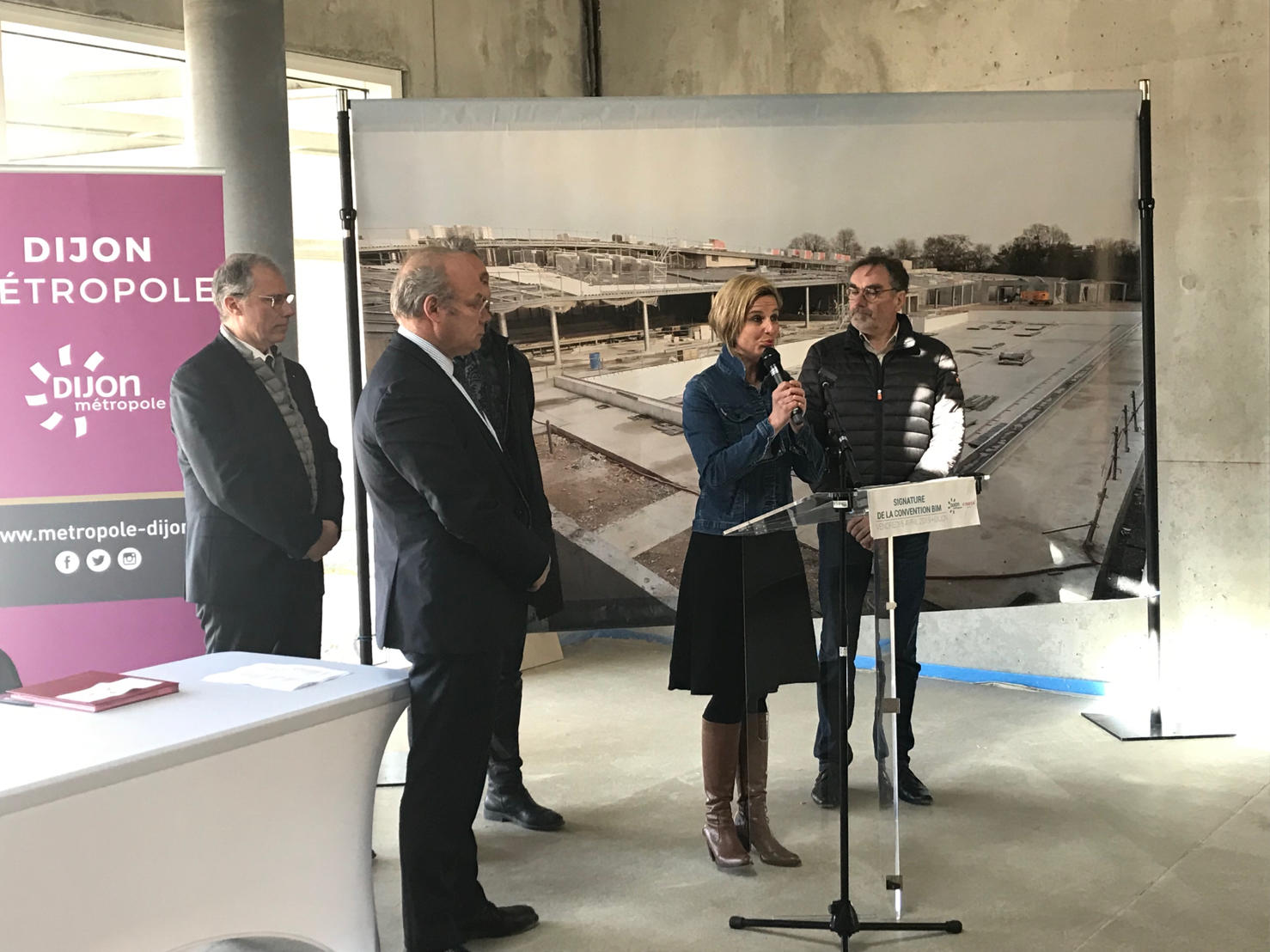 Currently, in one hand the city of Dijon supports a construction project of 40 bio-sourced houses. The first training is planned in June, 7th 2019 as the work starts in April. In the other hand, Franche-Comté Region supports the renovation and the construction of 2 high school's projects. The pilot field lab in Dijon just signed its convention in April:
"On April 5th, 2019 on the swimming pool Carrousel site in Dijon, a press conference was held with Pierre Pribetich, 1st Vice President of the city of Dijon and Océane Charret-Godard, President of Creativ' as part of the BIMplement project. The construction of the swimming pool is one of the BIM reference at European level. CREATIV' is proud to have initiate such a project of training on-site for all building professionals for a better collaboration practice. A first step in France!!!" (Fabrice Rey, Director of the Maison de l'Emploi of Dijon).
Since the beginning of the project, there have been more than 21 bilateral meetings, around 10 collective actions organized and more than 50 people trained.
As new works on site have started in the territory of Franche-Comté, Provence-Alpes-Côtes-D'Azur, more than 13 trainings will be launched by July 2019.
Consequently, this runoff mechanism opens the possibility to implement on a wider scale a training policy on-site in this territory. It seems that BIMplement has a bright future!