Benefits of BIM and its level of adoption in European countries
Building Information Modelling (BIM) is at the centre of a digital transformation of the construction sector and the built environment. The European construction sector represents 9% of EU GDP and 18 million employees being a driver for economic growth in Europe. However, according to the World Economic Forum, construction labour productivity has stagnated or even decreased over the past 50 years. In light of OECD figures, construction sector labour-productivity growth doesn't match the labour productivity growth achieved in the overall economy. Reasons for this are, among others, the persistent fragmentation of the industry; inadequate collaboration between the players; the sector's difficulty in adopting and adapting to innovative technologies; the difficulties in recruiting a talented and future-ready workforce; and insufficient knowledge transfer from project to project.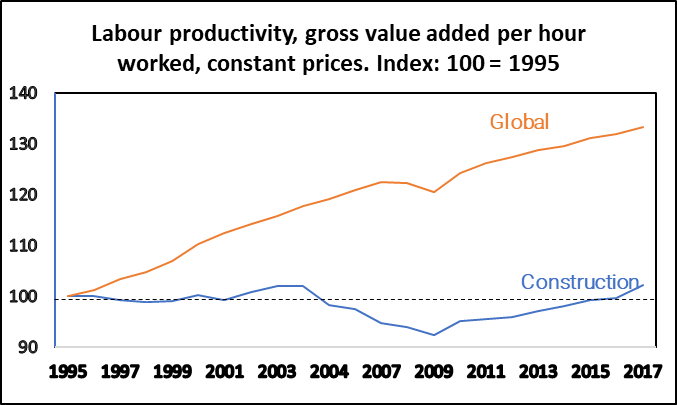 Own elaboration based on Organization for Economic Cooperation and Development (OECD) statistics.
The World Economic Forum described BIM as one of the 10 most promising technologies that can act as a force for lowering the barriers for change and reversing this trend. New digital technologies, such as BIM itself, have begun to transform the way that buildings and infrastructures are designed, built and maintained. In our opinion, BIM is much more than a digital technology and should be considered as a strategic and complete methodology to increase construction productivity by delivering cost savings, improved construction and exploitation management, better environmental performance and quality, enhanced transparency and collaboration across the industry.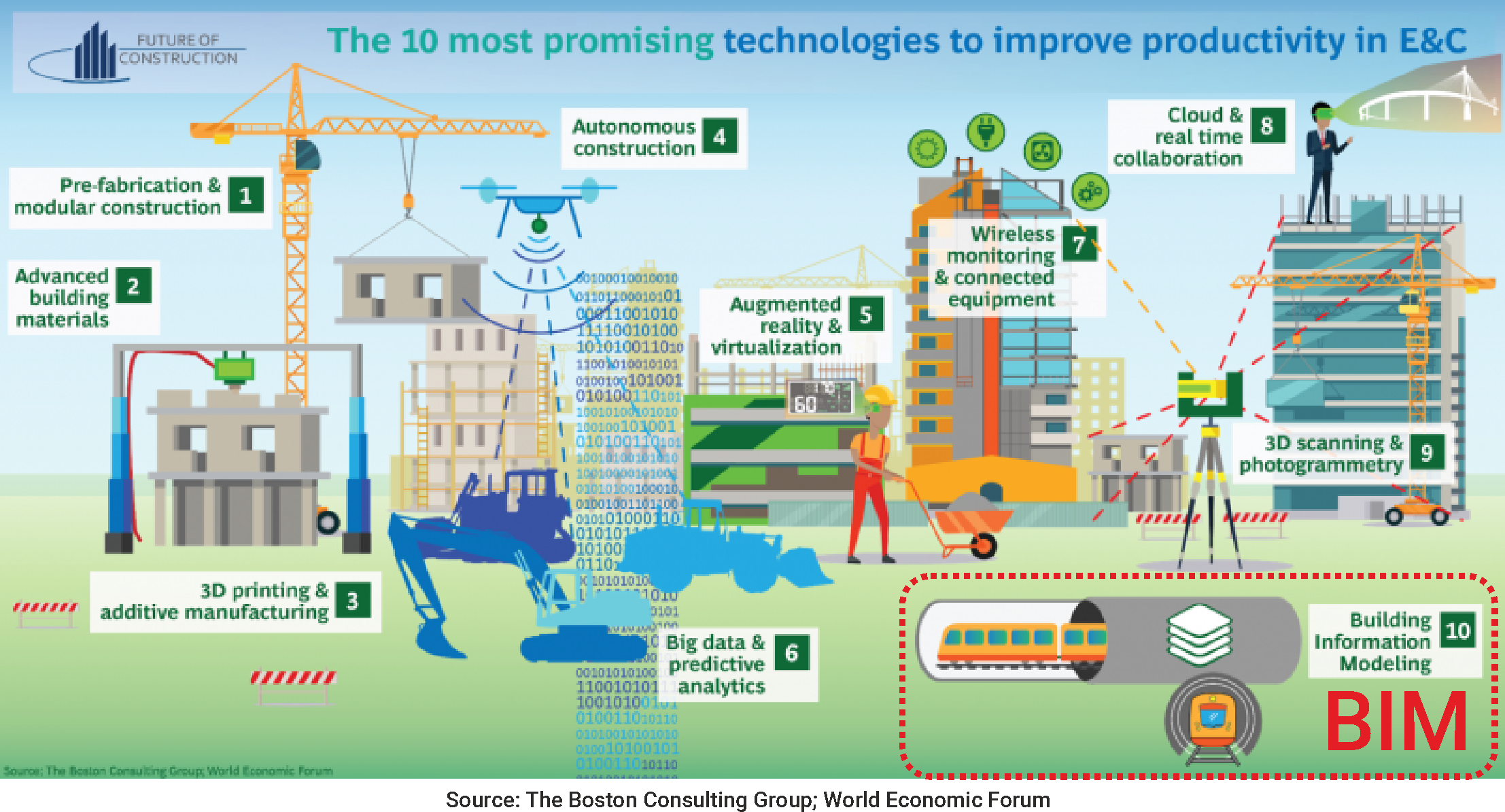 This is why, a growing number of European governments and public sector organisations have introduced initiatives to promote the wider adoption of BIM at a national, regional or public estate level. However, BIM is still distant from reaching its potential in Europe; and, as shown in the following picture, is progressing at different speeds in European countries.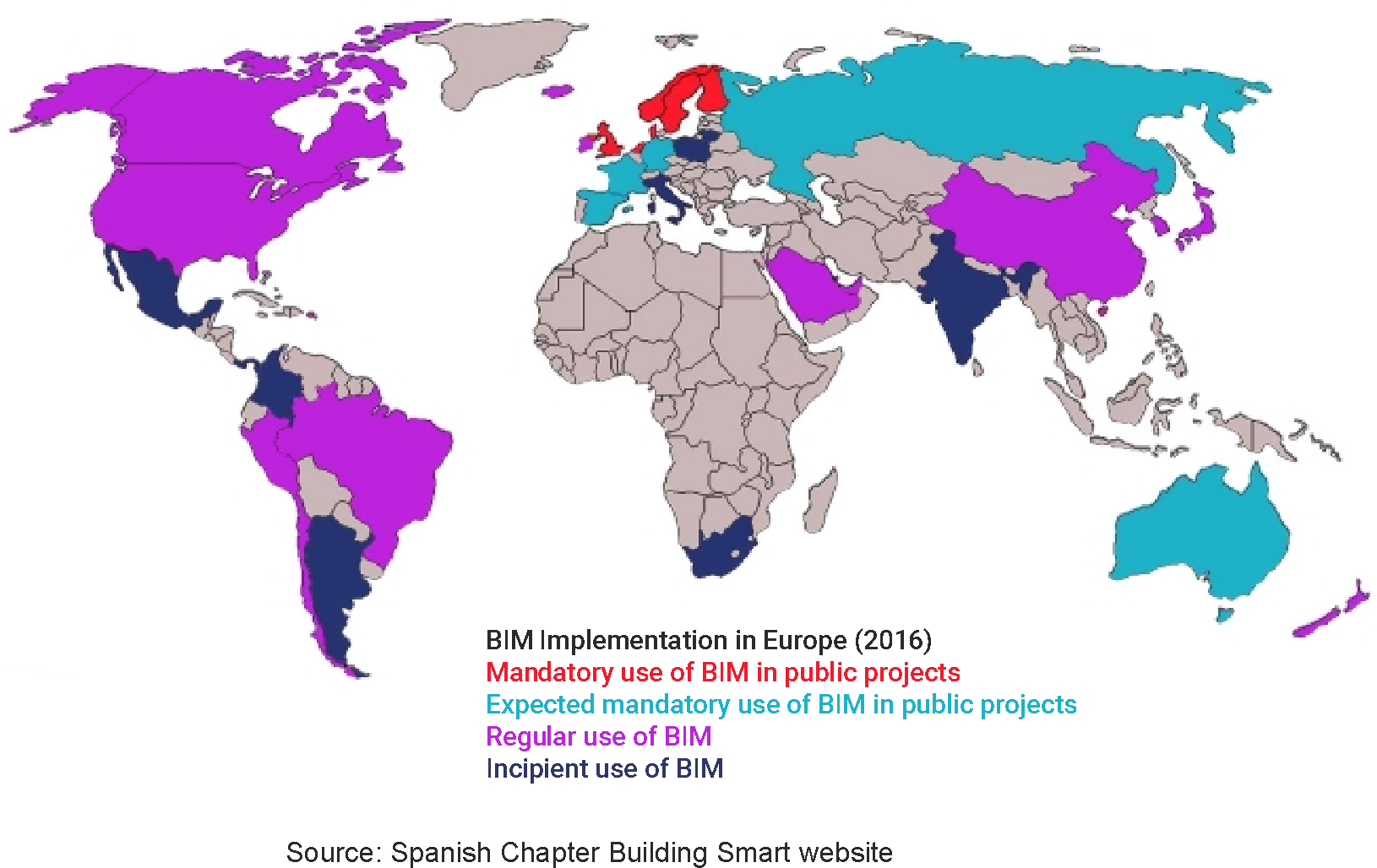 Looking at how Europe is doing with BIM there is no doubt a lot of movement and initiatives are going on. There are some countries such as The Netherlands, the United Kingdom or Nordic countries where the compulsory use of BIM in public projects is already a reality and it is also being spread to private sector.
In the Netherlands, BIM is becoming mainstream by most large construction companies. Also, the government is demanding the use of BIM in their integrated design and building contracts since 2011.
Halfway through, there are countries such Spain or France where the mandatory use of BIM in public projects is expected soon.
In Spain, the Es.BIM platform, initiative sponsored by the Spanish Ministry of Civil Works engaging companies and professionals from different areas of the Architecture, Engineering and Construction (AEC) industry, is encouraging the adoption of BIM by ensuring the process covers the whole construction chain. In addition, the timetable for mandatory BIM implementation on public sector projects is now a reality.
In France, 3D models tend to be widespread in the field of new building but is much more limited in renovation projects. However, the BIM process is rarely implemented by all stakeholders who intervene in a project, and only a few of them are really involved in it. Also, BIM is usually used during the concept and design phases, but the process is not pursued during the execution phase. As for the adoption of BIM on public sector projects, everyone agrees on the key position of BIM within the next year, even though, nobody know the exact date.
Finally, there are other cases, such as Poland or Lithuania where the use is still incipient. In Poland, public investors are becoming more and more aware of the potential of BIM technology in cubature and infrastructure investments. At the moment, the use of BIM technology is not mandatory yet in Poland for this type of projects, and the Ministry of Infrastructure and Construction is currently at the stage of supporting pilot projects aimed at verifying the implementation of the BIM methodology.
Nevertheless, there is still a long way ahead to catch up worldwide leaders such as the United States & Canada or Japan & South Korea.
Several studies have underlined the main barriers for BIM adoption: low demand, absence of national standards, initial investment or lack of knowledge and experience of stakeholders involved in the AEC industry.  BIMplement project is trying to overcome this last barrier by setting up large scale training and Continuous Professional Development (CPD). BIM uses are different depending on the role and task each actor performs in the construction chain, therefore the training to reach the skills needed should be adapted. 
BIMplement is working toward a unified approach to BIM in Europe by providing a methodology on how to identify the different professions and levels involved in the construction chain and offering them the specific BIM training they need. Having partners from 5 different countries in Europe (France, Spain, The Netherlands, Lithuania and Poland) allow us to test this training methodology in countries whose level of BIM adoption is different so far.
Author: Instituto Valenciano de la Edificación (IVE), 17 May 2018