On June 25, INIVE EEIG on behalf of the QUALICHeCK platform, organised a conference that aimed to present the status of BIM and opportunities and challenges regarding BIM use for the regulatory assessment of the energy performance of buildings. The aim was also to explore possibilities and challenges for an accelerated interaction/integration. The session, entitled "1st European Conference BIM and energy performance of buildings", was held in the Auditorium Hadewijch in Brussels and attended by 200 professionals, including Governmental organisations.
Ana Tisov from HUYGEN introduced the H2020 project BIMplement in which they participate as a partner. Tisov underlined that nZEB constructions and renovations need an enhanced systematic approach for the quality control over the entire process. This requires additional workforce competences and qualifications to guarantee the quality is reached.
She also highlighted how BIMplement paves a road towards this improved quality for nZEB construction and renovation by:
addressing the entire value chain of the building sector and the total construction process (from pre-design to in use phase);
improving skills of professionals as blue-collar workers for nZEB quality (cross-trade & cross-level) via large scale trainings and continuous professional development (CPD);
developing a flexible qualification methodology that is able to anticipate new products and processes (cross-time) in different countries (cross-country); and,
by empowering BIM.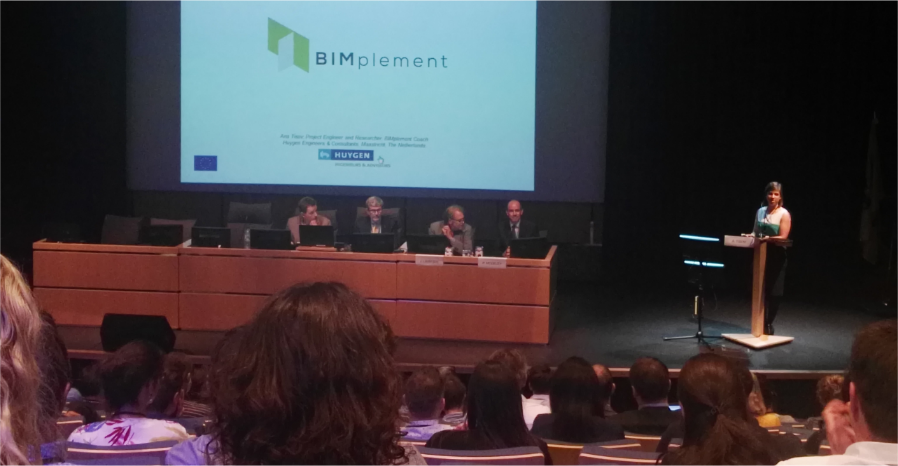 She emphasized that BIM on its own is not the goal but improved quality for nZEB construction & renovation and a more efficient systematic process are the goals. BIM seems to be the best approach to reach these goals because:
While sufficient, current knowledge is fragmented. – Utilizing BIM allows storing relevant learning and process metadata in an efficient way.
BIM can be enriched by definition of quality levels, needed skills and linked trainings. – BIM can serve as a multidisciplinary data repository.
Enhancing BIM models with didactical information can enable and facilitate the learning process over the whole value chain.
BIM can improve a collaboration between different disciplines and management of works. – BIM allows synchronization of design and construction phase.
More information: agenda, BIMplement presentation
Date: 6 July 2018