The BIM-PRAXIBAT mobile center
Description
The PRAXIBAT mobile center is mobile container in which it is possible to operate training session directly on the construction site. Two issues are handled with this device : airtighness (because this issue is still not concrete and clear to most workers) and ventilation.
The container is installed on the construction site, usually upon request from the client who makes it compulsory for companies to have their on-site workers to be trained on best practices for airtightness and ventilation implementation.
Training sessions
On clients' requests, this container has been installed on 12 construction sites, mainly social housing rehabilitation and public buildings. All together, more than 220 blue collar workers, from 65 SME companies took this 1.5 training session centred on the improvement of on-site airtightness practices.
Main results
All clients reported an important improvement of final blower door airtightness tests for the project where training sessions have been implemented. The reported results are improved by 2 or 3 compared to projects with no training.
Training contents
The training contents for the "original" mobile container aim at improving blue-collar workers practices in terms of airtightness implementation. The training sessions are the following: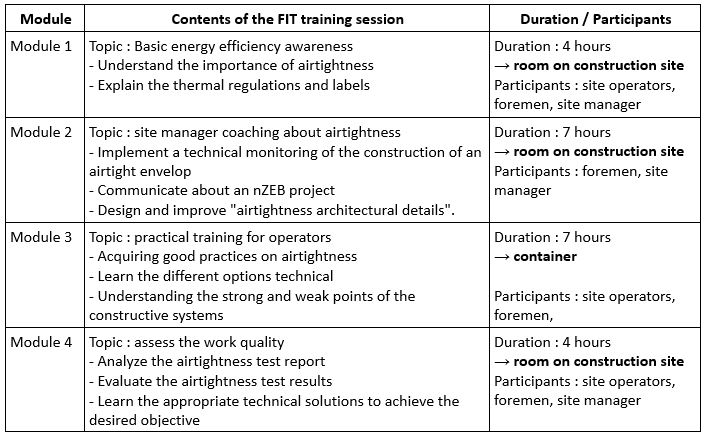 A second version of the mobile centre has been designed from the original container. The aim of this new device is to train on the use of BIM on the work site, for site workers, and includes a focus on airtightness issues.
To that end, the BIM model of the container has been enriched with all useful documents (as explained in D4.5 and pilot-airtightness) to explain solutions and implementation methods.
Such a "BIMed" container can be used to train on the "use of BIM models on construction sites" when the project BIM model is not accessible or if there is no BIM model.
The training programme is the following :